(Hunting Lodges)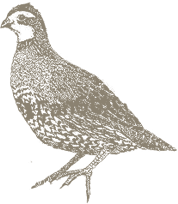 Otter Creek Farm
3165 Six Foot Road
Ohatchee, AL 36721
Calhoun County
678-388-2205
Otter Creek farm is the new standard for quail hunting in Alabama. Selected by Garden and Gun Magazine as one the top 25 Dream Destinations for the traveling Sportsman.
What are the secret ingredients for a quail hunt you will never forget? Hard flying birds, beautiful landscapes, good habitat, well-trained dogs, top-notch guides, fellowship among friends, welcoming hosts, luxurious accommodations, gourmet food, and fireside cocktails and cigars to round out the day.
Come join us at Otter Creek Farm, located in Ohatchee, Alabama, where we pride ourselves on offering you and your hunting party only the best. When you schedule a hunt at Otter Creek Farm, you will have exclusive private use of the entire property, and you can be guaranteed that no detail will be overlooked. Located less than two hours from either Birmingham or Atlanta, OCF is an easy destination for family, friend, or corporate groups coming from anywhere in the southeast.
A typical hunting day at OCF begins with breakfast followed by a morning hunt, lunch, an afternoon hunt, and finishes off with a relaxing evening and a gourmet supper. You can expect to hunt with experienced guides behind some of the best pointing dogs (English pointers, English setters, and German short-haired pointers) and flushing dogs (English cocker spaniels) in the southeast. Hunting is mostly by foot with transportation throughout the property by Polaris Rangers. Habitat consists of rolling hills with native warm-season grasses, creek bottoms, and open piney woods. We request that hunters use 20 gauge or smaller break action guns, and we do have rental guns available.
With six beautifully furnished guest rooms, a game room, multiple dining areas, indoor and outdoor fireplaces, and a beautiful infinity pool, guests are certain to be comfortable and well taken care of during their stay.
Additional sporting activities include deer hunting in fall, turkey hunting in spring, trout fishing in winter in stocked ponds, and bass/bluegill fishing in spring, summer, and fall in ponds. We also have the ability for wingshooters to warm up shooting clays over trap stations.
We can accommodate parties of 6 guns at a time, and up to 12 guests at double occupancy. We can host hunting parties for day trips, overnights, or multi-day trips with overnights. When groups book a hunt at OCF, they have exclusive private use of the facilities and hunting grounds. We do not mix hunting parties. We do offer observer rates for hunters wishing to bring non-hunting spouses or friends. Please call for pricing and availability. We looking forward to helping you plan the quail hunt of a lifetime!
Amenities
On-Site Overnight lodging for 6 guns or 12 people
Type of Quail Hunting
Wild, Early Release, Short-Term Release
Transportation
Walking, Mechanical Transport
Bird Dog Options
Facility Supplied
Other Hunting/Recreational Opportunities
Turkey Hunting, Deer Hunting, Fishing, Sporting Clays
Other Facility Options
Bed & Breakfast, Business Meetings, Private Parties, Wedding/Receptions