(Hunting Lodges)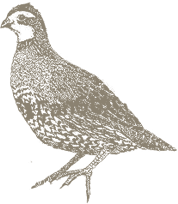 Soggy Bottom Lodge
18618 Hwy 43
Linden, AL 36748
Marengo County
334-654-4750
LODGE
Our lodge was constructed by Cliff Turnipseed with Turnipseed Construction from Aliceville, AL and we've had nothing but great comments from anyone setting foot inside. From its old coke container constructed cabinets to the wrap around front porch it is no doubt one of the nicest places you'll ever stay. Built from wood and tin salvaged from an old barn, it is truly a work of art. We are now offering the lodge for weddings, parties, corporate meetings, or just a great weekend getaway. We have large beds that sleep up to 18 or more if you'd like the kids to spread out on the coaches. WiFi, Satellite TV, Surround System, large dining room table that seats 14 (more can be added), an outdoor dining area that can seat 30-40 with a large well lit porch/roof, grills and an outdoor kitchen. Please call us and we can customize any event you have in mind to fit your needs.
QUAIL/PHEASANT
Quail and Pheasant hunts are offered in a variety of settings…planted milo/corn, native grasses, thinned pines, with a number of different shots and flushes. Let us take you and some of your friends or clients on a true gentleman's hunt. We are currently managing areas to bring wild quail back to the area and are seeing results with our fences predation is drastically cut down. So, while you will have your share of great flying pen-raised birds, don't be surprised to see some wild flushes along the way.
For larger groups we offer a continental pheasant shoot up to 20 hunters. You'll see top notch dog work that will deliver your pheasants to hand. Some think this is not challenging but the number of shells on the ground after a hunt tells a different story!
DUCK
Mallards are an all-time favorite species for traditional duck hunters. At Soggy Bottom, we offer a short cut for the business man/woman who can't spend too much time over in Arkansas chasing the elusive Greenhead. You can stay with us close to home and have big, fat, mallards decoying in your face through the canopy and watch top of the line dog work all from one of our cozy blinds. Or, choose to hunt our flooded corn and you'll think your right off the Mighty Mississippi decoying overhead Mallards! You are welcome to bring your calls and your own dog or we can provide one for you.
DEER
Always dreamed of that monster Mid Western Whitetail? Look no further, with over 13 years of breeding experience with high quality genetics our 900 acre enclosure has numerous 150" plus deer. We have 5 deer on camera that we know are 200 inches! So if you don't have time to get up to Illinois or make that long trip to Canada; please give us a call and you can do it in a weekend. People make the assumption that these deer are "easy" or "they're not hard to hunt in a pen" but, these deer are roaming the entire 900 acres and that let's mother nature do a good job in hiding them. They are not pressured like a "hunting club" so your chances are very high at being successful and our guides usually know exactly where the deer of your choice likes to hang out but it's still hunting!
FISH
While you are staying with us wet a hook in our 21 acre trophy bass lake. It is stocked with F1 Tiger Bass (florida/largemouth) and they are angry! These fish are being well taken care of and managed intensively and are growing at a tremendous rate. You can catch your share or we have a boat that we can get you out to where the big ones live. We are also available for a kids birthday party where you are guaranteed to catch your fill of fat bream right off our dock.
SKEET
Don't forget about our 10 station skeet range. Come challenge friends or clients to a round of shooting clay targets or try our 350 yard rifle range. This option is offered as a warm up to any of your hunts or you can just book some time on the range to practice. It also makes for a great break time for you and your team members that might be using the lodge for a meeting space.
OUR GOAL
At Soggy Bottom, we pride ourselves on being able to accommodate whatever it is you'd like to do. You don't just come to deer hunt, you can add a number of things to your experience all in one place. We would love to work with you to set up anything from a quite weekend to a large corporate outing with 15-20 clients. We have the staff in place to build your perfect situation whatever that might be.
Amenities
On-Site Overnight lodging for 20
Type of Quail Hunting
Self-Guided Hunts, Early Release, Short-Term Release
Transportation
Walking, Mechanical Transport
Bird Dog Options
Bring Your Own, Facility Supplied, Kennels Available
Other Hunting/Recreational Opportunities
Dove Hunting, Duck Hunting, Deer Hunting, Fishing, Sporting Clays, Continental Shoots, Photography
Other Facility Options
Bed & Breakfast, Business Meetings, Private Parties, Wedding/Receptions