(Hunting Lodges)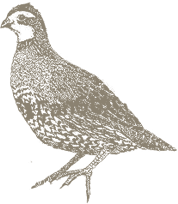 Covey Run Lodge
Covey Run Lodge is conveniently located 1.5 miles off I – 20/59, Exit 17 in Livingston, AL. It is situated on some of Alabama's finest rolling black belt prairie. Ideal for nature hikes across the rolling green pastures or strolls by the different ponds. Paths are set aside to help access the easiest terrain possible.
We offer guided pheasant, quail, dove, deer, turkey, and hog hunts. 2,000+ acres of private hunting land provides ample opportunity for the hunt of a lifetime. Activities such as fishing and sporting clay shooting may be available as well upon request. Our landscape is planted with hundreds of acres of crops every year, which hosts some of the best wing shooting in the area. We are a fairly new lodge in the scene of commercial hunts. However, all our guides have at least 10 years of professional guiding experience. Hunts can be catered to your preference. We have an array of transportation options, including side by sides and mule drawn wagons. We also offer trail riding on horseback or bring your own horses and enjoy the comforts of our four stall barn, with 2-acre paddock. Give us a call or send an email for additional information.
The Lodge is equipped with a very large kitchen that opens up into the living room. Situated with plenty of seating for bigger parties. A 50in flat screen is mounted above the fireplace. Hosting the premium Dish package. The master bedroom is located downstairs, featuring a Jacuzzi and shower. The dining room, located next to the kitchen, is ideal for family style dinners. The upstairs has 4 bedrooms and 2 full baths with a large outdoor balcony. Guest are welcome to the washer and dryer and any other amenities at their convenience. The back porch and pool area are ideal for social gatherings. Whether that be just a person and their dog or a bunch of friends looking to catch up. The porch is covered and supplied with scenery that one is sure to get lost in. Off the back of the swimming pool, lies a rather large deck. Suitable for an array of activities. Covey Run's outside setting is centered around the relaxation of country living. Nightly accommodations include 5 bedrooms, 4 full baths and will sleep up to 16 people.
Whether you are looking for a private getaway or to entertain clients, we have everything you need.
Amenities
On-Site Overnight lodging for 16
Type of Quail Hunting
Short-Term Release
Transportation
Walking, Mule Drawn Wagon, Mechanical Transport
Bird Dog Options
Facility Supplied
Other Hunting/Recreational Opportunities
Turkey Hunting, Dove Hunting, Deer Hunting, Hog Hunting, Fishing, Sporting Clays, Photography
Other Facility Options
Bed & Breakfast, Private Parties, Wedding/Receptions