(Hunting Lodges)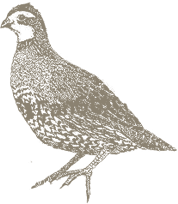 Crooked Oaks Hunting Preserve
Crooked Oaks continues to be developed as our home and as a place where folks can come to relax and enjoy the outdoors. Our hunting operation has been expanded to include professionally guided quail, deer and turkey hunts and our rustic hunting lodge at Crooked Oaks accommodates hunters as well as special events.
It turns out that the best part of the operation for us has been all of the wonderful people we have met and the great friends we have made. The folks who come back year after year have become part of our extended family.
We invite you to join us for a memorable experience on "The Hunt" or in fellowship with your friends at a special event, or to simply take a break from the pressures of life. I look forward to being your host at mealtimes, social hours and the inevitable "bull" sessions.
Whatever your reason for visiting us, you will be welcomed with good old-timey Southern hospitality.
Amenities
On-Site Overnight lodging for about 25
Type of Quail Hunting
Self-Guided Hunts, Early Release, Short-Term Release
Transportation
Walking, Mule Drawn Wagon
Bird Dog Options
Bring Your Own, Facility Supplied, Kennels Available
Other Hunting/Recreational Opportunities
Turkey Hunting, Deer Hunting
Other Facility Options
Business Meetings
Meals
Southern Gourmet, Traditional Southern
Business/Other Meeting Facilities
Conference Room