(Hunting Lodges)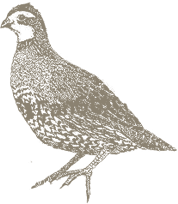 High Log Creek
P.O. Box 163
Hatchehubbee, AL 36858
Russell County
25 miles southeast of Auburn/Opelika
334-667-0002
A history laden experience for the wing shooting enthusiast.
If you enjoy the excitement and anticipation of a beautiful covey rise on a crisp morning and the pleasure of watching the English Pointers and the Retrievers at work then High Log Creek is the place for you. Situated in the middle of Alabama quail hunting country, High Log Creek offers full and half day quail hunts by horseback and mule drawn wagon. Our goal is to offer a traditional plantation style quail hunting experience suited for family, friends and clients.
High Log Creek is located in East Central Alabama, an easy drive from Birmingham, Mobile, Montgomery or Atlanta. We provide a comfortable lodge with delicious southern style dining for breakfast lunch and dinner.
We look forward to having you join us this season for a tradition rich quail hunting experience.
Amenities
On-Site Overnight lodging for 6
Type of Quail Hunting
Early Release, Short-Term Release
Transportation
Walking, Mule Drawn Wagon, Horseback
Bird Dog Options
Bring Your Own, Facility Supplied, Kennels Available
Other Hunting/Recreational Opportunities
Pheasant
Other Facility Options
Business Meetings
Meals
Southern Gourmet
Business/Other Meeting Facilities
Day and Overnight, Conference Room, Break-Out Rooms