(Hunting Lodges)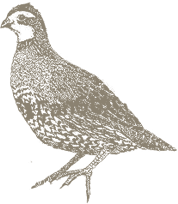 Oak Ridge Hunting Lodge
P.O. Box 52
Louisville, AL 36048
Barbour County
30 miles southeast of Troy
334-301-8021
Welcome to Oak Ridge Hunting Lodge -Alabama's Premier Hunting Destination. We offer a wide range of hunting experiences, specializing in whitetail deer and bobwhite quail. We also offer limited spring turkey hunts. Two fully stocked bass and bream ponds are available, with fishing tackle furnished if needed. So if you're in search of trophy whitetail deer hunting, or the finest quail hunting Alabama has to offer then book a huntwith us today.
We take your hunting experience very seriously. From the time you arrive to the time you leave, we guarantee exceptional service, the finest southern cooking, and a clean, comfortable lodge where you can relax, reflect and share stories after an exciting hunt.
We're located in Barbour County, Alabama - nationally recognized as one of the premier Trophy Whitetail Deer Hunting destinations. As your hosts, we look forward to treating you to the hunt of a lifetime.
Amenities
On-Site Overnight lodging for 8
Type of Quail Hunting
Wild, Self-Guided Hunts, Short-Term Release
Transportation
Walking, Horseback, Mechanical Transport
Bird Dog Options
Bring Your Own, Facility Supplied, Kennels Available
Other Hunting/Recreational Opportunities
Squirrel Hunting, Rabbit Hunting, Turkey Hunting, Dove Hunting, Pheasant, Deer Hunting, Hog Hunting, Fishing, Photography
Other Facility Options
Bed & Breakfast, Business Meetings, Private Parties
Meals
Traditional Southern
Business/Other Meeting Facilities
Day and Overnight