(Hunting Lodges)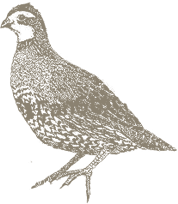 PA-KO Plantation
200 Pa-Ko Plantation Road
Midway, AL 36053
Bullock County
40 miles south of Auburn/Opelika
877-539-5699 | Cell: 334-687-0548
Welcome to authentic Alabama hunting in an unspoiled, family-owned setting! Whether you're on a corporate or personal retreat, you'll find quail and other game in abundance, terrain that is managed to provide perfect cover, superlative dogs and staff who roll expertise and Southern hospitality into one.
Pa-Ko caters to your needs with a philosophy honored through three generations: when you're at Pa-Ko, you're family, too.
Pa-Ko devotes as much attention to its plantation environment as it does to its guests. That adds up to an unrivalled hunting experience, no matter what your interests or level of expertise.
We've managed the land for abundance since Pa-Ko's inception. Stands of planted pine, plus the deft use of controlled burns, produce prime quail hunting habitat, while vast hardwood bottoms favor eastern wild turkey and whitetail deer. We routinely work with wildlife experts to make trophy game the rule, not the exception.
But it's customizing that puts our hunting trips in a different league. Plantation owner J. Paul Taylor knows every inch of land, every seasonal change. He evaluates each group's specific interests and capabilities, then aligns those with current Alabama hunting conditions, recent wildlife movement and more. You can count on being in trusted hands with expert guides. No matter how often you return, every hunt is new.
Amenities
Transportation
Mule Drawn Wagon, Horseback
Bird Dog Options
Bring Your Own, Facility Supplied, Kennels Available
Other Hunting/Recreational Opportunities
Turkey Hunting, Dove Hunting
Other Facility Options
Business Meetings
Meals
Traditional Southern
Business/Other Meeting Facilities
Day Only, Conference Room