(Hunting Lodges)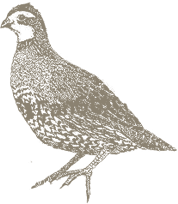 Rice Creek Quail Preserve
P.O. Box 342
Stockton, AL 36579
Baldwin County
251-937-5076 (site info)
Welcome to Rice Creek Quail Preserve
Thank you for visiting. We want to be your destination for quail hunts in Baldwin County!
We are located in beautiful Stockton Alabama, offering approximately 450 acres of hunting ground throughout our towering pine plantation. Our year round property maintenance guarantees that this is prime hunting ground for you!
Rice Creek Quail Preserve is a small family owned hunting club, but you will have a BIG and memorable experience here.
We offer both half day or full day hunts for you and your friends and family. We are also pleased to accommodate corporate hunts; please contact us with your needs and we will be happy to customize a great package just for you!
Amenities
On-Site Overnight lodging for 6
Type of Quail Hunting
Wild, Self-Guided Hunts, Early Release, Short-Term Release
Transportation
Walking, Mechanical Transport
Bird Dog Options
Bring Your Own, Facility Supplied, Kennels Available
Other Hunting/Recreational Opportunities
Dove Hunting, Pheasant
Other Facility Options
Business Meetings
Meals
Catered
Business/Other Meeting Facilities
Day Only, Conference Room