(Quail Research)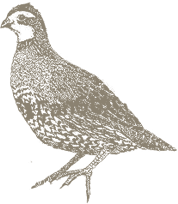 Quail Research is focused on promoting, facilitating, and/or funding research and demonstrations focused on public and private examples of quail habitat development, nesting cover, brood-rearing habitat or escape cover and successful results of quail population restoration activities.
For more information, please Contact Us.
---
Support the Cause
Get in touch with us and find out how you can help restore and protect quail.
---
Find the Perfect Lodge